Travel solo, backpack, strange places, free & easy, go as far as you can
About warmth & hope in this world
A breakfast menu in Old Beijing
" Travel makes one modest. You see what a tiny place you occupy in the world "
" Better to see something once than to hear about it a thousand times "
" Chances are, other people you meet travelling alone are going to be incredibly interesting people "
" My 28 days traveling solo to North Eastern China (provinces of Heilongjiang, Jilin, Liaoning, Shandong & Beijing) from 31/7- 28/8/2015 - focusing on my visits to towns bordering Russia (ie Heihe & Suifenhe) & North Korea (ie Tumen & Dandong) and the coastal cities of Liaoning & Shandong (ie Dalian, Yantai & Qingdao) - a total of 13 cities/towns "
Travel Itinerary: Kuala Lumpur (Malaysia) > Beijing > Harbin > Heihe > Wudalian Chi > Harbin > Mudanjiang > Suifenhe > Mudanjiang > Yanji > Tumen > Yanji > Changchun > Dandong > Dalian > Yantai > Qiangdao > Beijing > Kuala Lumpur
Total expenses incurred (28 days): CNY5,370 + Rm954 = Rm4,256 (US$1,105)
Air Asia Ticket (KL>Beijing>KL): Rm775
Airport bus & Taxi : Rm75
Airport shuttle bus + train express: CNY50
Visa fee: RM104
Hostels (dorm/single): CNY1,550 (25.5 days)
Food: CNY994
Entrance fee (total): CNY270 (senior)
- Forbidden City : CNY30
- Summer Palace : CNY30
- Wudalian Chi : CNY 40 x 2
- Jing Po Lake : CNY40
- Imperial palace of Manchu state : CNY40
- Bang Chui Dao Island : CNY20
- Yantai Shan : CNY30
Ferry: CNY180 + CNY10 (Dalian>Yantai)
Speed Boat: CNY200 (Wudalian Chi & Jing Po Lake)
Long Distance Bus (total): CNY976
- Haerbin>Heihe : CNY166
- Heihe>Wudalian Chi : CNY83
- Wudalian Chi>Haerbin : CNY103
- Herbin>Mudanjiang : CNY96
- Mudanjiang>Suifenhe>Mudanjiang : CNY39 x 2
- Mudanjiang>Jing Po Lake>Mudanjiang : CNY50
- Mudanjiang>Yanji : CNY74
- Yanji>Tumen>Yanji : CNY15 x 2
- Ynaji>Changchun : CNY117
- Dandong>Dalian : CNY99
- Yantai>Qingdao : CNY80
Train (total): CNY698
- Beijing>Herbin = CNY306(high speed)
- Changchun>Dandong = CNY78
- Qingdao>Beijing = CNY314 (high speed)
Shuttle bus (scenic area): CNY186
Taxi: CNY15
Metro: CNY38
Day Tour: CNY100 (Dandong)
City bus: CNY88
Exchange Rates (23/7/2015): CNY1=Rm0.615 (Ringgit Malaysia); US1=Rm3.85
North Eastern China Map
Map of Heilongjiang Province
Map of Jilin Province
Map of Liaoning Province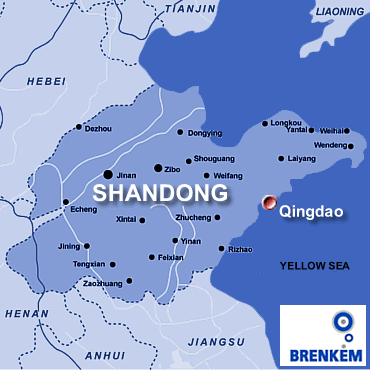 Map of Shandong Province
When I booked my Air Asia promotional ticket for this China trip in Nov 2014, I was aiming at visiting Russia via Beijing to Harbin and then by train to Vladivostok. From Vladivostok I will then travel north east by train all the way to Khabarovsk, Ulan Ude, Irkutsk, Novosibirsk and then return to Beijing via Manzhouli. But getting a Russian visa is bureaucratic unless you are prepared to pay Rm480 (US$125) using an accredited agency in Kuala Lumpur to apply the visa on your behalf !
With a change in my travel plan, I then focused my north eastern China trip to visit cities & towns bordering Russia & North Korea. Now that I had done the trip, I must confess that the outcome was fabulous and rewarding !
The 13 cities/towns I visited in north eastern China were:
Heilongjiang Province
- Harbin
- Heihe
- Wudalian Chi
- Mudanjiang
- Suifenhe
Jilin Province
- Yanji

- Tumen
Liaoning Province
- Dandong


- Dalian

Shandong Province

- Yantai
- Qingdao
For public transport, I used high speed trains for my travelling to bigger cities like Beijing to Harbin and Qingdao to Beijing. As for the smaller towns along the Russian & North Korean borders, I relied mainly on long distance buses instead of normal trains as it was difficult to buy a sleeper train ticket during the summer month of August when millions of students were on vacations. Everything worked well except I missed visiting Mohe & the Arctic Village (northern tip of Heilongjiang) as most sleeper train tickets were sold out well in advance !
Most of my hostel accommodations in bigger cities like Beijing, Harbin, Qingdao, Dalian & Yantai, were booked on line via Hostelworld website. A number of the youth hostels I stayed in these cities were within walking distance to Metro, bus stations & the old towns so I saved considerable time moving around the touristy places. As for the smaller towns like Wudalian Chi, Heihe, Mudanjiang, Yanji, Dandong etc, I put up in smaller hotels located 50-100m from the long distance bus terminals upon arrivals - no advance booking !
Due to their close proximity, I was able to visit Suifenhe on a day trip from Mudanjiang. Likewise, I did a day trip to Tumen from Yanji.
It was far more economical & convenient to sign up a day tour package eg Mudanjiang & Dandong as their major tourist sites are located far away from the city centre.
As for my visits to coastal cities like Dalian & Yantai, the six hour ferry crossing between both cities was an interesting experience ! The bus ride from Yantai to Qingdao took slightly over 3.5 hrs via a new express way.
All in all, a very fruitful visit for me to see the greater region of the north east China. In every free & easy travelling, one has to walk extra mile to see with your own eyes the many wonderful places around you, whether it is natural or man made ! Travelling does enhance your knowledge in geography, history, culture & customs of a nation !
Early autumn is still the best time for visiting north eastern China as the weather is much cooler unlike the late summer month of August - rather warm during the day !
Beijing
Forbidden City
St Sofia Church
China & Russia Border, Heihe
Wudalian Chi, Heilongjiang
Laoshan Volcano Crater
Jin Po Lake
China & Russia border
Yanji, Jilin


Changbai Shan People's Cultural Park
Tumen, Jilin
China & North Korea border
Imperial Palace of the Machu State
Ya Lu Jiang & Bridge
Bang Chui Dao
Yantai Shan
Qingdao Beach
The world is so big (China is big too), my thought is to seek out and see the world
So near yet so far, I missed visiting Mohe & Artic Village in this trip - I shall return & make this dream comes true
!
Arctic Village, Mohe