" Love is the food of LIFE. Travel is the dessert. Little by little, one travels far "

" Change is always difficult in the beginning, messy in the middle & gorgeous in the end "
" There are 4 things in this world I really need when travelling. Can eat, can walk, can sleep & of course, a nice bowel movement every morning "
" My 22 days traveling solo to Sichuan, Yunnan of China ( Chengdu, Kangding, Tagong, Daocheng, Yading, Shangrila, Tiger Leaping Gorge, Lijiang, Lugu Lake, Xichang, Emeishan ) from 16/8 - 6/9/2014 - taking a rough ride to admire the natural landscapes & mountainous regions & the Tibetan plateau of Sichuan & Yunnan "
Travel itinerary: Kuala Lumpur (KL), Malaysia > Chengdu > Kangding > Tagong > Kangding > Daocheng > Yading > Daocheng > Shangrila > Tiger Leaping Gorge > Lijiang > Lugu Lake > Xichang > Emeishan > Chengdu > Kuala Lumpur
Total cost incurred (22 days): Rm705 + CNY4,029 = Rm2,810 (US$870)
Air Asia ticket (booked online on 30/11/2013): Rm619(US$194)
KL>Chengdu 09.15>13.40; Chengdu>KL 11.55>04.30

Airport bus/taxi: Rm71 + CNY20
Hostels (dorms- 21 nights): CNY$855
Food & groceries: CNY973 + Rm15

Entrance fees: Total = CNY393
-Yading - CNY80 (senior)
-Tiger Gorge - CNY65
-Lugu Lake - CNY100
-Emeishan - CNY90 (senior)
-Panda breeding center - CNY58

Bus (long distance): Total = CNY923
-Chengdu>Kangding: CNY119
-Kangding>Daocheng: CNY136 + CNY10 (service fee)
-Daocheng>Yading>Daocheng: CNY50 x 2
-Daocheng>Shangrila (Zhongdian): CNY113
-Shangrila>Tiger Leaping Gorge: CNY50
-Town Entrance > Lower & Middle Tiger Leaping Gorge: CNY35
-Middle Tiger Leaping Gorge > Lijiang: CNY50
-Lijiang>Lugu Lake: CNY100
-Lugu Lake>Xichang: CNY95
-Emei>Chengdu: CNY50
-Chengdu>Huanglong Si ancient town>Chengdu: CNY14 + CNY`10.50
-Chengdu city bus to Panda center, Big & Small Alley, Sanshengxiang Flower Village & return: CNY51

Taxi, resort shuttle bus & cable car: Total = CNY460

-
Yading: CNY120 + CNY80
- Ta Luoshui > Lugu Town (taxi): CNY30
- Emei: CNY90 + CNY120 (cable car)
- Emei train station>Baoguo town (taxi): CNY20

Train (Xichang>Emei): CNY62.50 + CNY10 (service fee)
Bicycle rental: CNY23

Day tour (cost sharing): Total = CNY170
-Tagong Grassland / Sinduzio - CNY120
-Lugu lake - CNY50

Sundries: CNY130
Exchange rates: CNY$1=Rm(Ringgit Malaysia)$0.52; US$1=Rm3.23; Euro$1=Rm4.32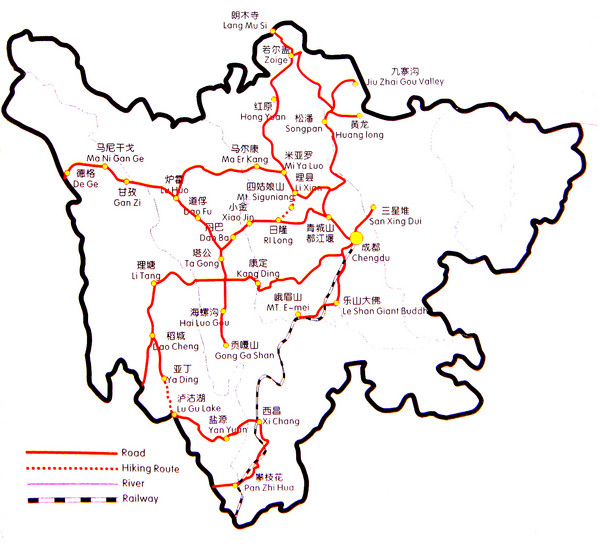 Map of Sichuan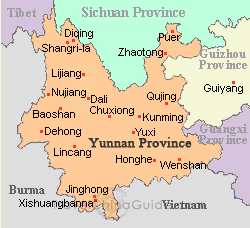 Map of Yunnan
I skipped visiting Tibet again and opted for this visit to the south west regions of Sichuan & Yunnan. So I am still chasing my Tibet dream .........
It was late summer & early autumn when I visited Sichuan & Yunnan in this trip - the weather was superb (16-20c) especially in the mountainous regions of these two provinces in China. However, the long distance bus journeys (average about 10-13 hrs ride) starting from Chengdu to the various major towns in the south west of Sichuan & Yunnan were arduous & strenuous so you have to be mentally & physically prepared to face the various challenges along the way ie high altitude sickness, poor public amenities, part of the roads in terrible state etc. Fortunately, as a seasoned traveller, I was able to endure and withstand the journey !
Forget about shopping in these places but instead you will be rewarded & greeted by stunning mountain scenery, beautiful natural landscape & grasslands, charming lakes, a rich Tibetan culture - you will never get bored the moment you embark on this adventurous trip starting from Chengdu to Kangding, Tagong, Litang, Daocheng,Yading, Shangrila, Tiger Leaping Gorge, Lugu Lake, Lijiang, Mt Emei ......... the best of Sichuan & Yunnan awaiting for you to explore & experience !
For those who are ambitious, travellers may look further afield by visiting the smaller towns along the Tibetan & Sichuan / Yunnan borders ie Dege, Batang, Derong & Deqen, this will probably satisfy to a certain extent your curiosity to know more about the Tibetan world - short of a visit to Lhasa, the capital of Tibet in China !
When in Chengdu, please make sure to pay a visit to the The Research Base of Giant Panda Breeding - the entrance fee is only CNY58 to see this tame black & white bear, a rare & protected specie animal & a national treasure in China ! Indeed, Sichuan is the home & cradle of giant pandas. China called it The Panda Charm !
Chengdu, Sichuan
Panda Breeding Center, Chengdu
Kangding, Sichuan
Kangding, Sichuan
Tagong, Sichuan
Tagong Grasslands, Sichuan
Daocheng, Sichuan
Daocheng town center
Yading, Sichuan
Shangrila (Zhongdian), Yunnan
Shangrila Old Town
Tiger Leaping Gorge, Yunnan
Tiger Leaping Gorge, Yunnan
Lijiang, Yunnan
Lijiang Old Town
Lugu Lake, Yunnan
Lugu Lake, Yunnan
Xichang, Sichuan
Qionghai Wet Land, Xichang, Sichuan
Emeishan, Sichuan
Mt Emei, Sichuan
After completing the 18 day of strenuous and arduous journey to the mountainous regions of Sichuan & Yunnan and as a traveller, one would smile like the picture of this Tibetan lady - sweet & confident looking !
" Go confidently in the direction of your dreams. Live the LIFE you have imagined "