" My Cuti Cuti (Vacation), Jalan Jalan (Walkabout) & Makan Makan (Eating) 24 days free & easy visit to Northern India with my travel buddies from Singapore (Lam) & Malaysia (KC & Lana) from 19 Nov to 12 Dec 2018 - my last backpacking visit to Northern India was in 2007 "
Map of Northern India - The cities I visited ie New Delhi, Amritsar, Agra, Varanasi, Sarnath, Bodhgaya, Lucknow, Patna, Raigir & Nalanda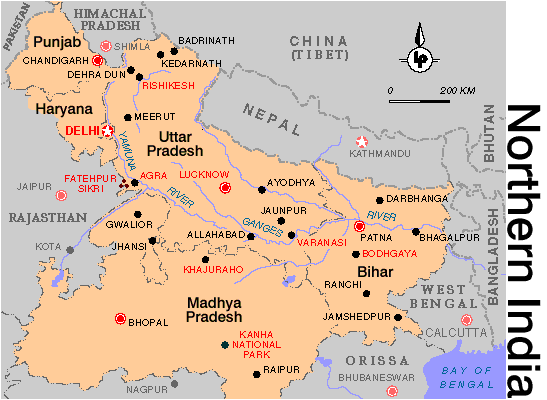 Map of Northern India
Why northern India visit ? My 1st visit to Northern India was in July 2007 (24 days) with a group of overseas Hospitality Club members (8 people) focusing my visit to Kashmir (Srinagar), Leh & Ladakh (Land of High Passes), Keylong, Old Manali, McLeod Ganj, Shimla & the Golden Triangle cities of New Delhi, Agra & Jaipur.
For this trip in Nov 2018 (24 days), both my Singapore & Malaysia travel buddies focused our visit mainly by trains following the Buddha trail (Bodhgaya, Sarnath, Rajgir, Nalanda & Patna); visitng the Sikh's Golden Temple in Punjab & the Hindu pilgrimage city of Varanasi & Ganges river. What a real eye opener, an enhanced understanding & appreciation of the religious faith of Buddhism, Hindu & Sikh for our group as a result of this visit in India !
In 6 of the main cities (New Delhi, Varanasi, Bodhgaya, Patna, Lucknow & Amritsar), our group had the opportunities to visit the major tourist sites in each city within the time frame ( average stay was 3 nights in each city except New Delhi, a total of 5 nights and 1 additional night on our final day). Using New Delhi as the starting point, our group was able to visit Agra (by day train) & moved on to Varanasi. From Varanasi, using auto rickshaw, it was quite convenient for our group to undertake a half day visit to Sarnath. Next, our group visited Bodhgaya and did a day tour (private car hire) to Raijir & Nalanda. After Bodhgaya, our group visited Patna and Hajipur. Lucknow & Amritsar were the last two cities our group visited before returning to New Delhi thus successfully ended our 24 days visit in Northern India. All these accomplishments were achieved through our group's careful planning & time management !
However, there were major challenges our group had to face along the way ie buying of train tickets, a train delay of 15 hours, a long train ride of 17 hours from Lucknow to Amritsar, hotels check in after mid-night (Patna & Amritsar), stomach upsets & diarrhoea after eating spicy Indian food, last minute cancellation of our hotel booking in Patna, tour guide scam in Agra, air / dust & noise pollution in major cities etc. But our strong mental, physical & spiritual strength had helped us to overcome these challenges - when the going is tough the tough gets going !
As newbies & first time travelers to India, it was a great experience for my travel buddies and as for me (a senior citizen), I am glad that I was able to accomplish this "hardcore" India trip & kept my spirit high throughout this visit ! One up for me in the world of travelling !
Enjoy reading my blog and wish all my readers a Merry Christmas & may the year of 2019 be a productive & fruitful one for the globe trotters who enjoy travelling !
UNESCO World Heritage sites our group visited in this trip:
1) Qutub Minar & its monuments, Delhi
2) Red Fort Complex, Delhi
3) Agra Fort, Uttar Pradesh (2nd visit)
4) Taj Mahal, Uttar Pradesh (2nd visit)
5) Mahabodhi Temple Complex at Bodhgaya, Bihar
In addition to the above, I had also visited the following UNESCO World Heritage Sites in Northern India during my backpacking trip in 2007:
2) Mountain Railway of India - Kalka Simla Railway, Himachal Pradesh
Total expenses incurred (24 days): Rs26,443 + Rm1,377 = Rm2,910 (US$692)
Air Asia Airlines (KL>New Delhi): Rm826
Indian Visa: Rm465
Travel Insurance: Rm74
Skybus (KL Sentral): Rm6 x 2 (senior)
Airport pick up (New Delhi) : Rs193 per pax (cost sharing of 3)
Hostels / Hotels (19 nights) : Rs10,872 (Rm630)
1) Hotel Smyle Inn, New Delhi (6 nights +1/2 day) - Rs450x5 + Rs683 + Rs225 (Quad room)
2) Stay Inn, Varanasi (3 nights) - Rs325 x 3 (dorm)
3) Bodhgaya (3 nights) - Rs671 x 3 (Quad room)
4) Patna (3 nights) - Rs550 x 3 (Quad room)
5) Lucknow (3 nights) - Rs842 x 3 (Twin sharing)
6) Amritsar (1 night) - Rs550 (dorm)
Trains: Rs4,647 + Rs500=Rs5,147 (Rm298)
1) New Delhi >Agra - Rs705 (reserved seat -inclusive of service fee)
2) New Delhi > Varanasi - Rs721 (3AC sleeper- Senior)) + Rs100 (service fee)
3) Varanasi > Gaya - Rs90 (unreserved seat)
4) Patna > Lucknow - Rs803 (2AC sleeper-Senior) + Rs100 (service fee)
5) Lucknow > Amritsar - RS1,728 (1AC sleeper-Senior) + Rs100 (service fee)
6) Amritsar > Hazrat Nizamuddin - Rs580 (3AC sleeper-Senior) + Rs100+Rs100 (service fee)
7) Hazrat Nizamuddin > New Delhi - Rs20
Long distance Bus (Bodhgaya > Patna) - Rs285
Town Bus (Patna>Hajipur): Rs50
Entrance fees: Rs3,270 (Rm190)
1) Red Fort - Rs600
2) Taj Mahal - Rs1,050
3) Agra Fort - Rs550 + Rs50 (Tour guide)
4) RS100
5) Bodhgaya Museum - Rs20
6) Mahabodhi Temple - Rs100 (camera)
5) Xuan Zang Memorial - Rs200
6) Nalanda University - Rs600
Metro: Rs690 (Rm40)
Auto Rickshaws: Rs700(Rm40)
Day Tour (Rajgir & Nalanda) : Rs750 per pax (cost sharing of 4)
Day Tour (Agra) : Rs1,470 per pax (cost sharing of 3)
Boat Tour (Varanasi): Rs200
Food & groceries (own prepared meals): Rs2.804 (Rm162)
Exchange Rate: Rm1=Rs17.41, US$1=Rm4.20; Rs100=Rm5.77
Travel Iti
nerary: Kuala Lumpur, Malaysia > New Delhi > Varanasi > Bodhgaya > Patna > Lucknow > Amritsar > New Delhi > Kuala Lumpur
Weather in New Delhi in Nov / Dec 2018 - average day temperature 16c-20c
My travel buddies from Singapore (Mr Lam) & Malaysia (KC & Lana)
India Gate, New Delhi - My travel buddies - Lam, KM & KC
Jama Masjid, New Delhi
Lotus Temple, New Delhi
Red Fort, New Delhi
Travel Highlights
Red Fort (UNESCO), New Delhi
Taj Mahal (UNESCO), Agra
3) Varanasi, Uttar Pradesh
Varanasi (voted one of the 100 Best Cities in the World by Lonely Planet in 2009) & Ganges River, Uttar Pradesh
4) Sarnath, Uttar Pradesh
The Giant Buddha, Sarnath
5) Bodhgaya, Bihar
The Great Buddha Statute, Bodhgaya
6) Raijir, Bihar
Vishwa Shanti Stupa, Giriyak Hill, Rajgir
Nalanda University Archaeological Complex (UNESCO)
8) Patna, Bihar
9) Lucknow, Uttar Pradesh
One funny liner contributed by hostel guests in New Delhi