" My 15 days 12 nights package tour to Eastern Europe covering major tourist attractions (8 countries, 23 cities / towns) in Romania, Bulgaria, Macedonia, Albania, Montenegro, Bosnia-Herzegovina, Croatia & Slovenia; organised by Sri America Travel Corporation Sdn Bhd (Tel +603-21429155) accompanied by my wife & travel buddy from East Malaysia, Lana Chai & my youngest sister, Seet Mei together with 22 of our tour members; travelling period from 17 - 31 March 2019 - my 7th visit to Europe & my last visits to Balkan states were in 2010-2011 & 2014 "
A comprehensive 15 day 12 nights package tour program, 8 Balkan countries & capital cities, 23 places of interests & tourist attractions, over 3,000km of inter-cities bus journeys in Balkans, 4 star hotels, 5 UNESCO World Heritage sites, 12 hotel buffet breakfasts, 13 lunches & 12 dinners (6 were Chinese meals), 8 border crossings, 5 hours of flight delay in Istanbul for our return journey home - the sum of all these numbers sound very challenging & interesting for 26 of our tour members who were mostly first timers (except me) looking forward to see & admire the best of Balkans in terms of sightseeing & tourist attractions for the next 15 days ! This was probably the longest package tour I had undertaken thus far in my world of travelling ! As a free & easy traveler or backpacker, I reckoned this tight travel itinerary may require more than 30 days to accomplish in order to visit all the major places of interests by public transport as featured in the Sri America's tour program !
The weather in mid-March 2019 in Balkans was cool & cold, average day temperature was around 8c-15c but night temperature could drop to 4c-5c in mountainous or coastal areas. The mountainous region of Bosnia was snowing (Sarajevo > Mostar) at the time of our visit thus our tour members had the golden opportunity of seeing falling snowflakes while walking in the Old Town of Sarajevo ! Midway between Sarajevo & Mostar, our bus made a short break at a heavy snowfall area near the roadside to allow our tour members to get a feel of the cold winter air and to step on a snow white field at a country side in Bosnia - a great experience especially for those who have not seen snow in their life !
In every tourist places we visit, there will be a local tour guide to accompany our group (3-4 hours) to lead us to the main tourist sites & also provide a brief commentary on the historical, political & cultural background of their beloved countries & touristy places !
Plitvice Lakes National Park in Croatia & the Postojna Caves in Slovenia are perhaps the most breathtaking natural wonders in the Balkan region & we were glad to be there and done that in this once in a lifetime visit ! Equally impressed were our group's visits to the Dracula's Castle (Romania), the Boyana Church's high level wall paintings (Bulgaria), Rila Monastery's famous frescoes (Bulgaria), the old town of Kotor (Montenegro), the Ohrid lake & historical old town (Macedonia), Dubrovnik old city fortress (Croatia), the Mostar's old stone bridge (Bosnia-Herzegovina) & the scenic Bled Lake in Slovenia !
Food wise, our group had the opportunities to sample the various types of western style Balkan food in downtown restaurants served mainly in set meals comprising of a vegetable stew or soup, fresh salads, pita bread, grilled meat made either of sausages, chicken, pork or fish, burek (thick hand pies) or pastries etc . So in each of the country, our group was exposed to eating the various local cuisine eg Bosnian Delight, Croatian Delight, Macedonian Delight etc. All these food were hearty & filling. A few of our tour members are not cheese eaters so their food were prepared without any cheese in it ! A few of our lunches & dinners were served in Chinese style food to our delight ! All our healthy & delicious breakfasts were eaten in great comfort in our hotel's restaurants as early as 06.30 …
In Dubrovnik, Croatia, our group had an enjoyable time as our hotel was strategically located near a beach / bay and from the hotel's balcony, we had a great view of a setting sun & the surrounding environment giving this hotel a real 4 star rating ! Overall, our group was happy with all the hotels we stayed ie comfortable beds, cozy bathrooms with warm showers, centralized heaters etc - I believe after each hotel check-in & a warm shower, everyone of our tour members look forward for a deep slumber and wake up fresh the following morning to enjoy a cup of cappuccino & a healthy buffet breakfast in the hotel's restaurant ……
Now that the tour is over, I am pleased to post a selection of pictures I had taken during the Balkan trip for your reading pleasure ! Though I had previously undertaken solo backpacking visits to the major capital cities of Balkan states in 2010, 2011 & 2014, revisiting these cities in this package tour visit gave me fond memories & special feelings. I believe every journey is personal, every journey is spiritual, you can't compare them, can't replace, can't repeat. You can bring back the memories but they only bring tears to your eyes ! Happy travelling !!!
Travel itinerary (covering a total of 21 cities / towns / tourist places in Balkans & Adriatic): Kuala Lumpur, Malaysia > Istanbul (Turkey) > Bucharest (Romania) > Sinaia (Romania) > Bran (Romania) > Bucharest (Romania) > Veliko Tarnovo (Bulgaria) > Sofia (Bulgaria) > Rila (Bulgaria) > Skopje (Macedonia) > Ohrid (Macedonia) > Tirana (Albania) > Podgorica (Montenegro) > Kotor (Montenegro) > Dubrovnik (Croatia) > Sarajevo (Bosnia-Herzegovina) > Mostar (Bosnia-Herzegovina) > Spit (Croatia) > Zadar (Croatia) > Plitvice Lakes National Park (Croatia) > Zagreb (Croatia) > Bled (Slovenia) > Ljubljana (Slovenia) > Postojna (Slovenia) > Ljubljana (Slovenia) > Istanbul (Turkey) > Kuala Lumpur (Malaysia)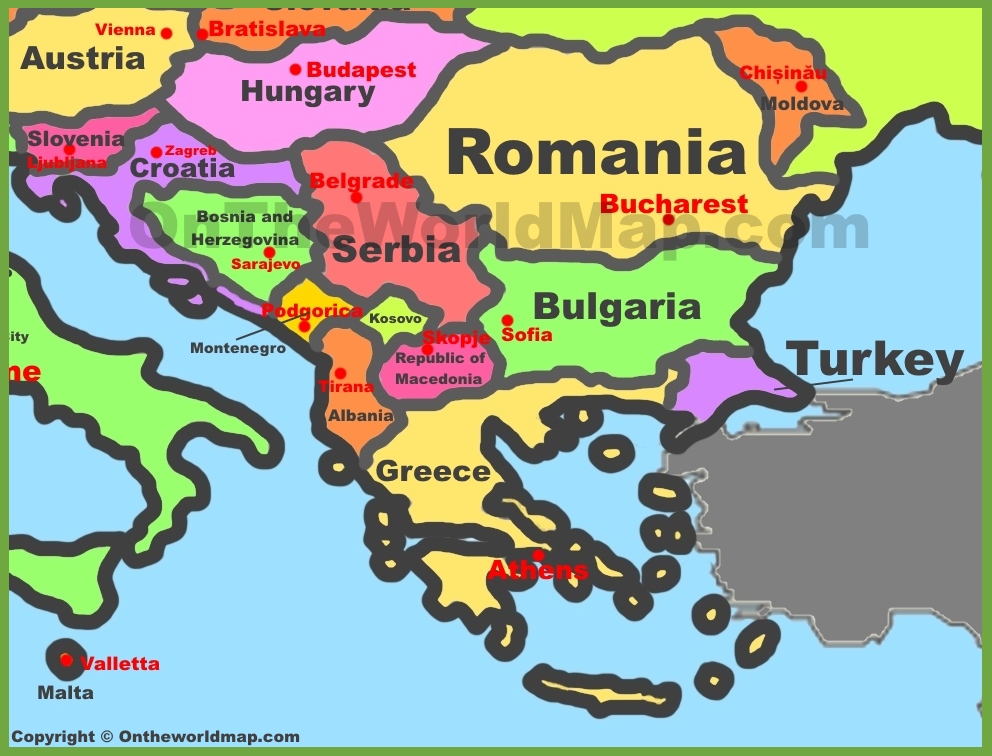 Tour Highlights:
1) Bran Castle - dubbed as Dracula's Castle
2) Tsarevets Fortress - one of Bulgaria's most beloved historical sites
3) Balkan's UNESCO World Heritage Sites: Mostar's Old Bridge, Plitvice Lakes National Park, Dubrovnik old city, Boyana Church
4) Attractions of 8 Balkan countries' capital cities ie Bucharest, Sofia, Skopje, Tirana, Podgorica, Sarajevo, Zagreb & Ljubljana
5) Rila Monastery - the largest & most famous Eastern Orthodox monastery in Bulgaria
Our Tour bus driven by a professional Croatian driver
Bucharest > Sinaia - 125km
Bucharest > Veliko Tarnovo - 155km
Veliko Tarnova > Sofia - 223km
Tirana > Podgorica - 156km
Dubrovnik > Sarajevo - 240km
Sarajevo > Mostar - 129km
Zadar > Plitvice National Park - 151km
Plitvice National Park > Zagreb - 138km
Ljubljana > Postojna Caves - 55km
Postojna > Ljubljana Castle - 50km
Ljubljana Castle > Ljubljana Airport - 55km
Total Mileage (Ground transport) : 3,027km
Kuala Lumpur > Istanbul - 8,380km
Istanbul > Bucharest - 1,300km
Ljubljana > Istanbul - 1,480km
Istanbul > Kuala Lumpur - 8,380km
Total Distance : 19,540km
Total costs incurred: Rm10,600 (Euro$2,278)
- Package tour price (15 days) = Rm10,364 (early birds) per pax inclusive of airfares, tips, travel insurance, hotels, food, ground transport & entrance fees
- Sundries (toilets, groceries & driver tips etc) = Euro$50
Exchange Rates: Euro$1=Rm4.65
Flight details (Turkish Airlines): Departing Kuala Lumpur 23.40 arriving Istanbul, Turkey 06.20; Transit departing Istanbul 08.15 arriving Bucharest 08.35; Return flight departing Ljubljana 19.55 arriving Istanbul 00.15. Due to a flight delay of 5.10mins, our departure time from Istanbul was 06.40 arriving KL 22.30
Our Tour Group (26 members) for this 15 days Sri America's "Pearls of Balkan & Adriatic" trip from 17-31 March 2019 - a group photo with the Palace of the Parliament, Bucharest in the background
My travel buddies - My wife (Soon Mae), Sister Seet Mei & Lana Chai from East Malaysia
Travel Highlights:
1) Romania
A) Bucharest, Capital
Revolution Square, Bucharest (Romania)
B) Sinaia
Peles Castle, Sinaia (Romania)
C) Bran
Bran Castle, Bran (Romania)
2) Bulgaria
A) Veliko Tarnovo
Tsarverets Hill Fortress, Veliko Tarnovo (Bulgaria)
B) Sofia, Capital
Alexander Nevsky Cathedral, Sofia (Bulgaria)
Boyana Church (UNESCO), Sofia, Bulgaria
C) Rila
Rila Monastery, Rila (Bulgaria)
3) Macedonia
A) Skopje, Capital
Macedonia Square, Skopje (Macedonia)
B) Ohrid
Saint Sophia Church, Ohrid (Macedonia)
4) Albania
Tirana, Capital
Skanderbeg Square, Tirana (Albania)
5) Montenegro
A) Podgorica, Capital
Clock Tower, Podgorica (Montenegro)
B) Kotor
Old Town of Kotor, (Montenegro)
6) Croatia
A) Dubrovnik (UNESCO)
Dubrovnik Wall City (UNESCO) - Croatia
B) Split (UNESCO)
Cathedral of Saint Dominus, Diocletian" Palace (UNESCO), Split (Croatia)
C) Zadar
St Donat Church, Zadar ((Croatia)
D) Plitvice Lakes National Park (UNESCO)
Plitvice Lakes National Park (UNESCO), Croatia
E) Zagreb, Capital
Zagreb, Croatia
7) Bosnia-Herzegovina
A) Sarajevo, Capital
Sarajevo, Bosnia-Herzegovina
B) Mostar (UNESCO)
Old Stone Bridge (UNESCO), Mostar (Bosnia-Herzegovina)
8) Slovenia
A) Bled
Bled Lake, Slovenia
Bled Castle, Bled (Slovenia)
B) Postojna Caves
Postojna Caves, Slovenia
C) Ljubljana, Capital
Dragon Bridge, Ljubljana (Slovenia)