Just WALK & WALK ! Walking is fine !
Chasing my dream, the day is bright & sunny
My China days - I yell & yell !
" In free & easy travelling, it is easy to walk & walk; talk & talk. But to realise your dreams, you have to walk the talk "
" If you enjoy limbo rock, the tagline is how low can you go. But if you enjoy travelling, ask yourself how far can you go "
" Working LIFE is a marathon. Traveling LIFE is a walkathon.
" My 12 days traveling free & easy with my wife to Southern China (Guangzhou, Panyu, Chaozhou, Xiamen, Nanjing County, Fuzhou & Huizhou) - revisiting southern China from 5-16/12/2014 during the early winter month "
Travel itnerary: Kuala Lumpur (Malaysia) > Guangzhou > Panyu >Guangzhou > Chaozhou > Xiamen > Fuzhou > Xiamen > Nanjing County > Xiamen > Huizhou > Guangzhou > Kuala Lumpur
Total cost incurred (12 days): Rm1,063 + CNY1,503 = Rm1,898 (US$548)
Air Asia Ticket: Rm636.80 ( KL>Guangzhou>KL)
Airport taxi & bus: Rm74
Hotels (11 nights-twin bed): Rm353 + CNY164 per pax
Food & groceries (12 days): CNY418
Transport: CNY720
Day tour (Nanjing Tulou): CNY168
Entrance fees: CNY33
Exchange rates: US$1=Rm3.46 (Ringgit Malaysia); Euro$1=Rm4.40; CNY$1=Rm0.556

Bus (long distance): Total CNY309
Guangzhou>Chaozhou: CNY145
Chaozhou>Xiamen: CNY100
Huizhou>Guangzhou: CNY64
High speed train: Total CNY265
Xiamen>Fuzhou> Xiamen: CNY65 + CNY65
Xiamen>Huizhou: CNY135
Ferry/metro/taxi/city bus: CNY146
Travel Highlights :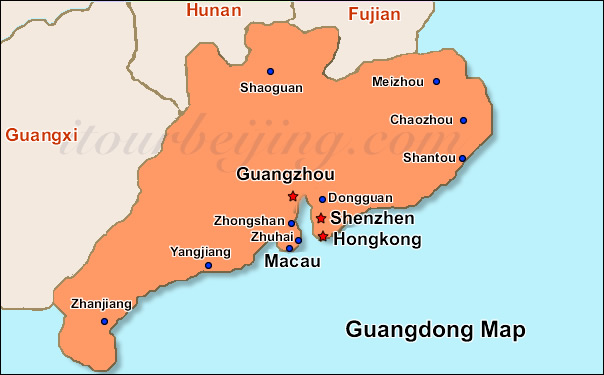 Map of Guangdong Province, China
Map of Fujian Province, China
My wife enjoys coming to southern China during the winter months. So here I am with my wife, taking a short holiday to 7 southern cities in Guangdong & Fujian enjoying the cool weather ranging from 5-16c, slightly colder this year.
Though I had previously visited Guangzhou, Xiamen & Chaozhou, this was my wife's first visit to Chaozhou & Xiamen and my first to Panyu, Nanjing county (Tulou), Fuzhou & Huizhou. My wife too enjoyed the high speed train rides, her first experience in China !

After this China visit, my wife is keen to visit Sichuan (Chengdu, Jiuzhaigou), Shaanxi (Xian) & Chongqing (Yangtze River cruise) during the autumn months so I am planning a visit for her in Oct 2015. I too is excited about it though I had visited these places in recent years.

How TIME has flown ! In another few day's time, we will be kissing bye bye to 2014 and I look forward to another exciting year in 2015 pursuing my own travel dreams ! LIFE is never easy for those who dream ! But dreams give us hope.

" LIFE & TIME are the world's best teachers. LIFE teaches us to make use of TIME. TIME teaches us the value of LIFE "

Wishing you all a Merry Merry Christmas & a happy New Year in 2015, a year of the goat, sheep & ram! A new year, a new beginning !!!
Ushering 2015, a year of the goat, sheep & ram
Guangzhou, Guangdong province
Panyu, Guangdong Province
Chaozhou, Guangdong Province
Nanjing County - Fujian Tulou
Huizhou, Guangdong Province
Words of wisdom on health - " Instead of inviting people for a treat to eat, why not inviting people for a treat to sweat ! Sweating helps prevent cancer "