The start of my father's journey to Nanyang in 1940's
Tracing the roots of our ancestors - ask your grandpa ?
In pursuing our dream path, the sky is full of rays of hope
" If you can't fly, then run. If you can't run, then walk. If you can't walk, then crawl. But whatever you do, you have to keep moving forward "
" No one realizes how beautiful is to travel until he comes home and rests his head on his old & familiar pillow "
" Trees have roots & branches. Human race has a family tree to trace "
" My 21 days solo visit to Southern China ( Guangdong, Chaozhou, Shantou, Xiamen, Hukeng/Tulou, Meizhou, Shenzen, Hong Kong, Macau, Sanya & Haikou ) from 3 - 24/9/2013- a walkabout to major cities of southern China & tracing the roots of Malaysian Chinese whose ancestors migrated to Malaya in the early 1900's "
Total Expenses Incurred ( 21 days ) : Rm$3,038 (US$990)
Air Asia ticket (KL>Gungzhou 16.00>20.00; Guangzhou>KL 01.15>05.25): Rm690
Visa fee ( multiple entries - 2 yrs) - Rm148
Airport shuttle bus: Rm18
Hostels: Y$940 + HK$398
Long distance buses / trains: Y1,202 + HK$190
Metro / City buses : Y$115 + HK$203 + MOP$6.40
Food: Y$679 + HK$180 + MOP$35
Entrance fees: Y$90 + HK$5 + MOP$8
Hostel booking fees: US$18 + GBP2.50
Exchange rates: Rm$1=Y$1.85; Rm$1=HK$2.33; Rm$1=MOP$2.32 (Macau); US$1=Rm$3.25; Euro$1=Rm4.39; GBP$1=Rm5.21
Travel itinerary: Kuala Lumpur > Guangzhou > Chaozhou > Shantou > Chaozhou > Xiamen >Hukeng/Tulou > Longyan > Meizhou> Shenzen > Hong Kong > Guangzhou > Sanya > Haikou > Guangzhou > Macau > Guangzhou > Kuala Lumpur, Malaysia
This is my 8th visit to China, the first was in Sept 1997 to Beijing, Tianjin & Chengde.
The two UNESCO world heritage sites I visited in this trip are Fujian Tulou & Historic City of Macau ( China currently has 45 UNESCO World Heritage sites and to-date I had visited 30 of these sites; another 15 more to pursue ).
Martin Luther King's "I have a dream"; Nelson Mandela's "your life remains our inspiration" & Deng Xio Peng's "reform & opening up" - these wisemen's thinking & belief led to people yearning for a better life and ultimately leading to a better world ! Likewise, this applies to the Chinese people who migrated from China to Nanyang (south of the oceans - countries like Malaya, Borneo, Singapore, Indonesia & Philippines which were perceived by the early Chinese migrants as lands of opportunities) in the early 1900's in search for greener pastures.
In the early 1900's, most of the Chinese migrants in Malaya were from the coastal cities of southern China. These cities are Guangzhou, Chaozhou, Meizhou, Fuchow, Hainan islands and other smaller towns in the provinces of Fujian & Guangdong. It is interesting to note that a significant number of Chinese settled in America during the California gold rush (mid 18th century) and also worked as contract workers in railroad construction etc.
By visiting these cities and their provincial museums, one could gain a better understanding of their historical past, the reasons why our ancestors migrated to "Nanyang" seeking a better life overseas. The Portuguese arrivals in Macau (1557); The first Opium War (1839); the British's rule in Hong Kong (1841-1997); Deng Xiao Peng's political reform's policy in the 1980's; all these events had greatly influenced the course of Chinese history, the life of the Chinese people and the political & economic developments in China over the last three centuries.
I am a 1st generation Malaysian of Chinese origin. My father migrated from Guangdong to Malaya in the early 1940's. My mother was from Hong Kong. I understand my ancestor was from a small village in the district of Gaoyao (near Zhaoqing) in Guangdong province. But my family has lost touch with our relatives in China since the 1960's . So the prospect of tracing my ancestor / root is quite a daunting one ! Hopefully this dream could be fulfilled in the near future.
Here goes the tale I like to tell after spending 21 travel days with my Qigong buddy (Mr Choy) touring southern China :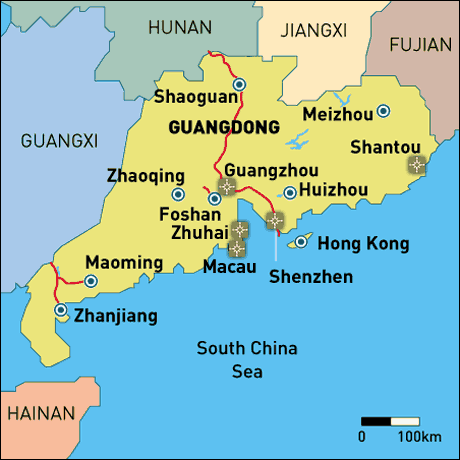 Map of Guangdong
Map of Fujian
Guangzhou, Guangdong Province
Chaozhou, Guangdong Province
Shantou, Guangdong Province
Xiamen, Fujian Province
Gulang Yu, Fujian Province
Hukeng / Tulou, Fujian Province
Meizhou, Guangdong Province
Shenzhen, Special Economic Zone, Guangdong Province
Hong Kong, Special Administrative Region (SAR), China
Map of Hainan Island
Macau, Special Administrative Region (SAR), China
Sanya, Hainan Province
Haikou, Hainan Province
Map of Hainan Island
" Mind your language - Malaysians of Chinese origin speak various dialects ie Hokkien, Cantonese, Hakka, Teow Chew, Hainan, Fu Chow etc ....... but over the years, we have our own style of conversing in English. Prince Charles may not like the kind of indigenised version of English we speak or write ! In England, you speak British English. In Malaysia, we speak Manglish; in Singapore, it is Singlish & in Thailand, they speak Thaiglish; but if you can speak mandarin (huayu) or putonghua in China, this could make your life easier when communicating to the various ethnic races (China has 56 ethnic groups) in the various provinces of China; so have fun when you are traveling to China & South East Asian countries ! "
Pursuing our dream path under our own feet
Map of Hainan Island


" Without a passion, life is nothing "