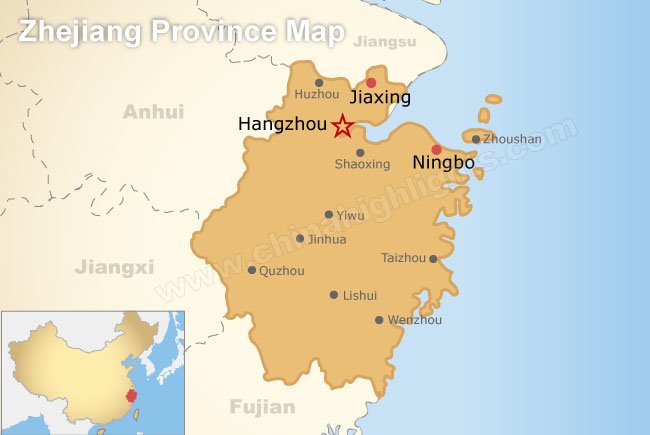 Map of Hangzhou, Zhejiang Province, China
Map of Suzhou & Wuxi, Jiangsu Province
1) Flight from Kuala Lumpur departing 08.10 > Hangzhou; seated by the window side, I was able to see when the plane was about to land, it had to pierce through 3 layers of white clouds ie the upper, middle and the lower layer and it was after the lower layer & within minutes, I could see the airstrip & Hangzhou airport from my window - what a pleasant sight ! My travel buddy, KC from USJ also noticed this phenomenon !
2) Arriving at Hangzhou Airport 13.10
3) Our Tour Bus for the entire trip (8 days)
Day 1 - Airlink's Tour Itinerary :
1) Airport - Assemble at KLIA2 for departure from Kuala Lumpur > Hangzhou
(Flight D7 302) departing 08.10 arriving 13.10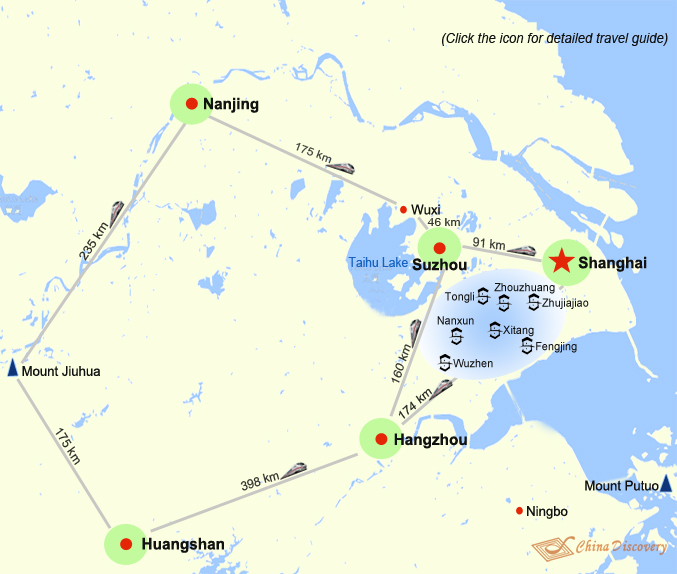 Map of Hangzhou, Suzhou, Shanghai & Huangshan
Hangzhou > Nanxun Ancient Town - 89km (1hr 24mins)
Nanxun Ancient Town - Suzhou - 68km (1hr 9mins)
1) Nanxun Ancient Town & Water Village, Huzhou (Zhejiang Province - 2 hrs by bus from Hangzhou, an

UNESCO

World Cultural Heritage Site & a 5A class tourist site in China, built during the 9th century under the Tang dynasty, well preserved & known for its cultural heritage; famous for silk production, picturesque waterways, canals, old stoned arch bridges from the Song, Yuan, Ming & Qing dynasties; lotus pond, courtyard, gardens etc . I was thoroughly impressed after this ancient town visit !
In Dec 2015, I made a free & easy visit with my wife to Zhujiajiao, a water village located 46km (58mins) from Shanghai city ! Other popular water towns / villages eg Wuzhen, Tongli, Zhouzhuang, Xitang & Fenjing are located close to Suzhou / Hangzhou .
It was drizzling at the time of our visit in the late afternoon. All our small umbrellas were put on good use !
2) Boat tour of Nanxun Water Village
3) The ruins of the ancient Wu Guodu - a 5 minutes walk from the bus parking to the opposite bank of Suzhou river to view this ancient ruins ! It could be better for the local guide / bus to bring us to the front entrance of this ancient city gate & wall to have a closer look of this ruins & also for photo shooting !
4
) Guan Qian Jie, Suzhou
- it was drizzling at the time of our visit, one of the recommended optional highlight side tours, an ideal place to shop for a winter wear ! My last visit to Guan Qian Jie was in 2010.
5) Hotel Accommodation in Suzhou (1st Night)
6)
Lunch on board the Air Asia flight
(Day 1) - slightly different from the normal meal I had eaten on board of Air Asia flights ie Nasi Lemak & Chicken rice etc
7) Dinner in Suzhou (1st Night) - yummy hot soup noodles, Suzhou style ! Free flow of noodles to satisfy your appetite ! A great start - our first dinner meal in China !
8) Night scenery near the Chinese Noodles Restaurant Area